Career and Placement Center
North South University (NSU) is one of the top-ranked private universities in Bangladesh. The Career Placement Center in NSU was established in 1996 to identify job opportunities for all students of North South University. NSU's Career and Placement Center (CPC) has been diligently grooming the students so that the students to fit well in the workplace of their organizations in Bangladesh and worldwide. This year, the CPC marks 25 years of its glorious journey. The CPC manages progressive development through the internship program, job searches, job placements, seminars, and workshops for NSU students. It is the first window for the students taking their first steps in starting their careers. CPC provides initial guidance for career choice and practical demonstration of corporate culture vital for graduating students in making decisions about the appropriate career goal.

The CPC has built a strong network with the CEOs and Managing Directors (MD) of different organizations which allows the CPC to highlight the students' capabilities to the right organizations. I have been teaching in the School of Business and Economics since 2007. Thousands of students have graduated from NSU and went through HRM classes. More than 50 of my students have become Head of Human Resources in different organizations, MNCs, and local conglomerates. I have been able to successfully incorporate my 28 years of teaching and research experience with various reputed academic institutions worldwide in the various activities of the CPC. My teaching and research experience in more than 100 multinational companies throughout the USA, Japan, Canada, Australia, and the UK had given me insights into what corporations are looking for, the expectations of graduating students, and the best way to transition from student life to handling responsibilities in a corporate job.
Professionals working in the CPC are devoted to helping students with their career-related issues. It supports students to make the necessary transition from student lives to a career in the corporate world. This transition related support activities could participating in seminars for particular disciplined-based arrangements, learning to work as a team player, showing creativity and a desire to excel.
The CPC focuses on developing all types of soft skills, hard skills, and technical skills that encourage teamwork, exploration, and creativity among students. One of the essential qualities that any student can possess, along with a strong resume, is the ability to face an interview. CPC strives to support students to become confident by hosting regular seminars and workshops on various topics through corporate experts from the industry. CPC also has a comprehensive archive of current internship students and job searching for students in their final year. This is supported by the annual alumni mentorship program, which brings together experienced alumni and fresh graduates to interact and share comprehensive professional knowledge and skills.
CPC can be considered a platform that works as the first window for students entering their career path. For 25 years, CPC has been working relentlessly to serve the students with the best career support and opportunities. This first official newsletter published by this department demonstrates the various services the CPC offers to prepare students for their career development. It also illustrates the bridge CPC has built between academia and the corporate world with the help of corporates from Bangladesh and worldwide. Students and graduates need proper guidance and grooming to establish themselves in the corporate world. CPC works as an essential window to make the strongest first impression on students and highly considered employers from various organizations.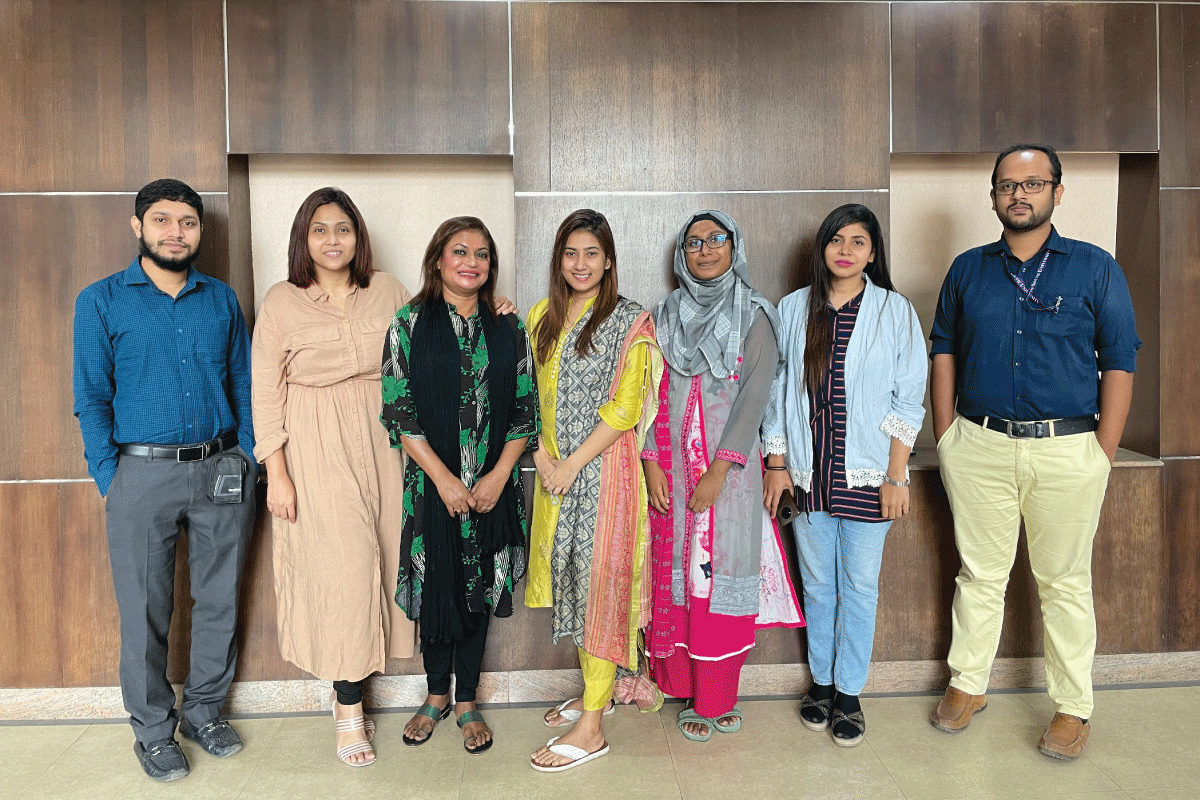 History of Career and Placement Center (CPC)
North South University (NSU), the first private university in Bangladesh, was established in 1992. As the first private university, North South University (NSU) launched a Career development department for the first time in Bangladesh in 1996 currently known as Career and Placement Center (CPC). CPC established to assist the student find a career path that will lead to a successful future.

Previously CPC was known as Student Career Planning and Placement Center in 1996. Ms. Syeda Sharmin Absar was appointed as the first coordinator of Student Career Planning and Placement Center. She worked for four years and tried to shape the career center to enhance the career of students.

The Student Career Planning and Placement Center evolved later as Department of Career Services (DCS) in 1999 and later on with inclusion of Professional Development Programs (PDP); it had earned its former name Career and Professional Development Services (CPDS) in 2005 by Mr. Almas Kabir Khan. Dr. Abdul Hannan Chowdhury had brought enormous changes during 2005 to 2012. He organized number of successful programs such as back to back successful National Career Fairs in 2007, 2008, 2010 & 2011. His activities and sincere effort brought the department to a standard structure.

The name Career and Professional Development Services (CPDS) was changed to Career and Placement Center (CPC) on 25th May 2015 by the Director, Mr. Faisal Wali. Now CPC is recognized as a comprehensive career management support platform for NSU students. It arranges internship & job placement opportunities, career counseling, job training and professional development.

Dr. Mohammad Khasro Miah, has been appointed as the current director of Career & Placement Center (CPC) on 10th October, 2018. He has organized the 8th and 9th National Career Fair in 2013 and 2019 along with the BSHRM International Conference. He has also introduced Japanese Language Program and career development related MoU with Japanese University for Engineering & IT-based students. He has published CPC website, online newsletter, brochure and so on. In addition, He has introduced NCF LOGO which is registered and approved by the Government copyright office. In 2021, Dr. Mohammad Khasro Miah initiated the "Project for skills Development of IT Engineers Targeting Japanese Market" for NSU students in collaboration with Bangladesh Computer Council and University of Miyazaki. He has also signed various agreements and MoUs with esteemed domestic and multinational companies such as Unilever, Standard Chartered Bank, British American Tobacco, MGH, Banglalink, Robi, Bashundhara Group and so on.
List of Directors of CPC
| | | | |
| --- | --- | --- | --- |
| 1 | Ms. Syeda Sharmin Absar | Coordinator | 1996-1999 |
| 2 | Mr. M. A. Raquib | Assistant Director | 2000-2001 |
| 3 | Mr. Amir Yousuf Khan | Assistant Director | 2001-2002 |
| 4 | Prof. Meshquat Uddin DBA | Director | 2002-2003 |
| 5 | Prof. Golam Mohammad, Ph.D. | Director | 2003-2005 |
| 6 | Mr. Almas Kabir Khan | Director | 2005 |
| 7 | Prof. Abdul Hannan Chowdhury, Ph.D. | Director | 2005-2012 |
| 8 | Prof. Mohammad Khasro Miah, Ph.D. | Director | 2013-2014 |
| 9 | Mr. Taj Uddin | Director | 2014 |
| 10 | Mr. Faisal Wali | Director | 2014-2017 |
| 11 | Ms. Farhana Zahir | Director | 2017-2018 |
| 12 | Prof. Mohammad Khasro Miah, Ph.D. | Director | Oct 10, 2018 - Present |
Functions of CPC:
Career guidance and counselling.
CV Writing and Interview Skill Development related grooming sessions.
Support Regarding Internship Placement.
Maintaining updated database for graduating students.
Maintaining 24/7 communication with students through our official social media page.
Organize and Facilitate Seminars, on campus recruitment, presentation and workshops, collaboratively with renowned organizations.
Maintains regular liaison with the corporate delegates to make internship and job opportunity more accessible to NSU students.